For over 100 years, the YMCA has been one of America's favorite swim instructors and a leader in water safety. Our proven curriculum and friendly environment enhance skills, all while having fun.
Swimming is a life-saving skill, so the Y offers a wide selection of preschool, school age, and adult swim lessons that build strong and confident swimmers. It uses a problem-solving, guided-discovery teaching approach in a positive, caring environment. 
The Y's swim lesson progression curriculum is designed to help participants reach their goals and provide a clear progression track.
Benefits of this approach include:
Accommodating students of varying abilities and ages
Fostering a sense of achievement and self-confidence
Staying grounded in a skill continuum that allows students to move easily from one stage to the next with clearly defined stages of progress along the way
Encouraging students to have fun and develop new friendships through group activities
Improving communication about student's progress
Group Swim Lessons 
Recommended skills for all to have around water
Students learn personal water safety and achieve basic swimming competency by learning two benchmark skills: Swim, float, swim – sequencing front glide, roll, back float, roll, front glide, and exit.
Skills to support a healthy lifestyle
Having mastered the fundamentals, students learn additional water safety skills and build stroke technique, developing skills that prevent chronic disease, increase social-emotional and cognitive well-being, and foster a lifetime of physical activity.
Group Swim Sessions: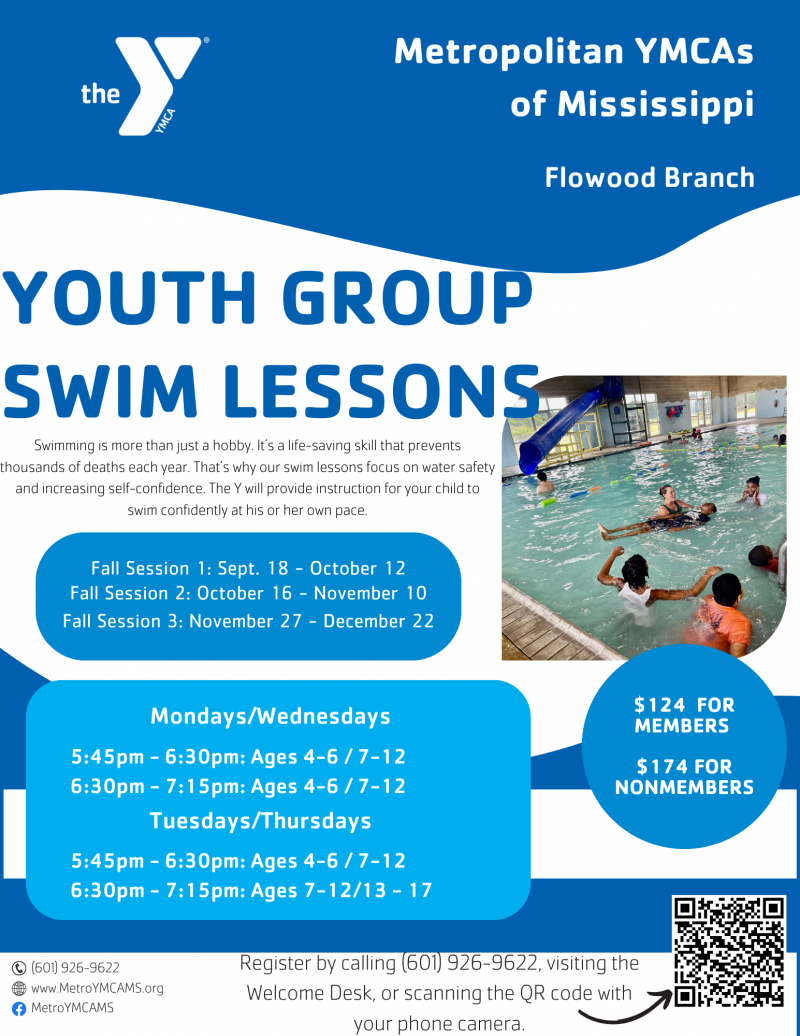 PRIVATE SWIM LESSONS (Members only)
Learn to swim one-on-one with an experienced instructor.
Ages: 4+ Years
$150 for four, thirty minute lessons
Offered Monday - Friday from 5:00pm - 5:30pm. 
Questions? Contact us!
Paula Féde, Senior Director of Aquatics
601-326-0543 or at aquatic@metroymcams.org