Move Across the State Challenge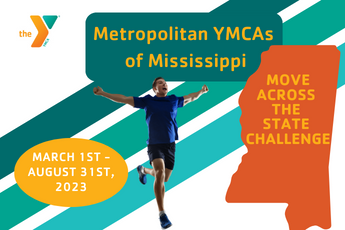 Challenge yourself to get moving to win!
The Y wants to challenge YOU to get moving by conquering one of our two Move Across the State Challenges.
Walk, jog, run, swim, row, or use other cardio equipment at the Y to track miles like you're moving across the state of Mississippi!
What's the goal?
The East to West Challenge is 180 miles, and the North to South Challenge is 350 miles.
How long is the challenge?
Don't worry! You'll have 6 months to complete either or both of these distances using the Y facilities.
How do you track your mileage?
Track using the Community Connect app.
Choose any type of exercise listed in the app and log each workout to build up your mileage.
What do you win?
East to West Challenge finishers receive:
Y swag bag
Picture displayed in wellness area and program brochure
North to South Challenge finishers receive:
Y swag bag
Picture displayed in wellness area and program brochure
Move Across the State T-Shirt